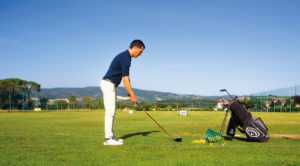 Currently the structure allows players of all levels to practise the long and short game

Todi, in a dominant position overlooking
the Tiber Valley
Todi is surrounded by three circles of walls: Etruscan, Roman and medieval.
Piazza del Popolo (People's Square) is the beating heart of the town and retains its medieval appearance surrounded by the main buildings such as the People's Palace, the Captain's Palace, Palazzo dei Priori (Priory Palace) and the Cathedral of the Annunciation.
Just outside the walls is the Renaissance style temple of Saint Mary of the Consolation.